I have been with Esthetix Dental Spa for the last 15 years and it has been a true adventure for me. I have had the opportunity to hold numerous positions which has allowed me to learn the ins and the outs of how a dental office works.
As an Insurance Manager, I am able to help our patients with questions regarding their insurance. I understand how expensive dental work can be; helping them get the most benefits allowed for their treatment is probably the most rewarding part of my job. On my free time, I enjoy spending time with my family and traveling with my child.
Hello my name is Elizabeth Riley, I'm the scheduling coordinator at Esthetix Dental Spa. I enjoy working at Esthetix Dental Spa because I get to be part of an exceptional group and get to service our community. In my free time I enjoy reading.
Vineet Mallavarapu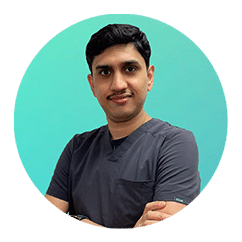 Office Operations Manager
7 years
The most important thing that I love at work is team work, as we all work towards patient satisfaction. I also love that I get to learn new things everyday.
Being an Operations Manager, I believe that when my team are in perfect harmony and we working towards our goal to make patient's experience as comfortable as possible is the most inspiring part. Photography is my hobby. I have a infant and a toddler and I love to spend my free time with my them!!
Deepthi
I enjoy working at Esthetix Dental Spa because it allows me to serve the people in my own neighborhood. Everyone who works here genuinely enjoys their position and their job, which makes for a fun working environment. When not busy practicing dentistry, I enjoy spending time with my husband Riley, newborn son Brian and dog Kira, traveling and trying new restaurants.
Hey! I am Dr W. And I am an endodontist at Esthetix dental spa. I have worked at esthetix for over 15 years and performed over 30000 Root canal treatments over this time. I love working here because the establishment under Dr Divya and Dr Philomin's Management is clean and well organized. Patients are amazed that a Root canal procedure is so quick and easy. In my free time I enjoy family time with my wife and 2 kids.
I enjoy working with the great team thru have at the office and being quality care to the area. In my free time enjoy travel, basketball and mentorship
Dr. Lam's bio coming soon
Dr. Chung's bio coming soon
Board Certified Periodontist
Dr. Laura Moon is a board certified periodontist. She trained locally at NYU College of Dentistry, then at NYU Langone Hospitals as Chief Resident in Periodontics.
Dr. Moon was nominated by her peers as a Top Dentist for her work in Bellevue, WA. While at NYU, she received the Dean's Research Award for her research on bone development, as well as the Student Inspiration Award.
As a board certified periodontist, Dr. Moon specializes in providing care for gum recession, periodontal disease, and dental implant surgeries. She utilizes microsurgical techniques that are minimally invasive to enhance the patient experience. Dr. Moon believes in empowering patients to make informed decisions and tailoring care for each patient's unique needs
Assistance & Hygiene
Staff
Lead Surgical Dental Assistant
12years
The work environment, co-workers and my job itself. Watch movies , hangout
I am a dental assistant and I came to do my internship at Esthetix 9 years ago. I liked the environment and the Doctors liked my discipline and my efforts to keep our patients comfortable during procedures. I was employed right away and have worked here ever since. I work with all Drs and even the hygienist when needed. All my Doctors are very knowledgeable and experienced. I enjoy working with Dr Philomin the most because he is so gentle with our patients and he creates life changing smiles on our patients. In my free time I enjoy going out with all my coworkers and stay active going to the Gym
Dentist in New York 10032 | Contact New York Dentist
We are minutes away from the George Washington bridge(GW bridge) and easily accessible to both Henry Hudson Pkwy and FDR. One block away from the A train station. We are happy to service all areas of Manhattan and the Bronx in 10032 10033 10040 10034 10463 and 10471 zip codes.